Fly Gym @ St. Pete Studio &
Lyra Aerial Hoop @ Brandon Studio
Miss Aly in the "Man on the Moon"
Miss Aly in a Lyra seated pose at Impulse Pole Dance
Miss Sarah in an arched layback
Miss Sarah in the Lyra working flexibility and balance at Impulse Pole Dance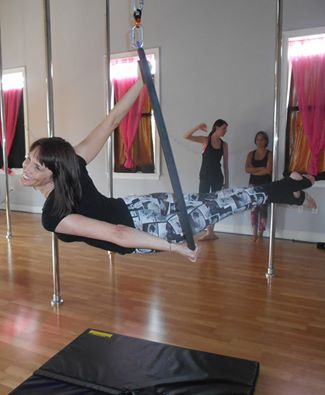 A student in Impulse Studio Lyra
A Student, Christy, loving the Lyra at Impulse Pole Dance
New teacher, Kim in a Flygym bridge
Kim is joining Impulse Pole Dance in 2016 and adding some sexy yogini knowledge to our team! She will be teaching Flygym Aerial Fitness.
Aruna Andes, FlyGym co-creator
You can fly high or low in FlyGym class and still get an awesome workout challenging your balance and working your core at Impulse Pole Dance
Aerial Fitness Fly Gym Dove Pose
Using the Fly Gym to train Pole Grip
Aerial Fitness Fly Gym Tampa
FlyGyms are a cotton fabric spandex blend easily laundered and super soft and supportive to work with.
Our Fly Gym classes are held in small groups of 3-5 students at our St. Pete Studio, and everyone gets their own swing. You need NO EXPERIENCE or PRE TRAINING, this class is suited for everyone and offers different modifications to increase or decrease difficulty encouraging students to respect their practice and body. Using Fly Gym equipment, you can suspend your body (or parts of your body) and enjoy motion in 360 degrees while sculpting your body in the air. This helps improve strength & body awareness, increases joint mobility, decompresses the spine, and gives the opportunity to find creativity and joy in physical activity.
**New Flygym Schedule and Instructor, Kim Chaffin starting 2016
Sundays 10am Flip & Fly for experienced
Mondays 6:30pm FlyGym Foundations
$20 each or 4/$85 exp 90 days
Late cancel policies apply SIGN UP FOR FLYGYM in ST PETE
Our Lyra Aerial Hoop classes are held in our Brandon studio and lead by Beastly Built's founder, Miss Jessica, who is also a pole instructor at Impulse Studios. The Lyra is a large circular metal ring used to flip, fly and swing! This workout will truely make you feel like you are ready to join the Circus! Classes are offered for new and experienced students. Please join us for our Lyra Jam on Saturday Jan. 30th 2016 from 4-6pm ($10 suggested donation) to see what we are all about and learn a move or two in the Lyra. More info on the event on our FACEBOOK.
Lyra Classes are $25 each or 4/$95 exp 90 days
Late cancel policies apply SIGN UP FOR LYRA in BRANDON
Questions? Call us at 813-325-1990
Aerial Fitness Classs Tampa, Flygym Tampa St Pete, Aerial Yoga Tampa, Circus workout, Aerial classes, Lyra Hoop, FlyGym Fitness